Economic Integration and Sustainability
Cultivating Talented Individuals:Support Scheme:Support Scheme for Presentation at International Conference, etc. (for student)
Bernard Ong / Monterey (California) and Portland (Oregon), United States
2010.07.10
Affiliation: GSAPS, Waseda University
Year: D1
Name: Bernard Ong
Itinerary: 06/15/10 - 06/22/10 (Month/Date/Year)

Destination (Name of city and country)
Monterey (California) and Portland (Oregon), United States

Research objectives
This project seeks to examine US' motivations in shaping the regional architecture of the Asia-Pacific in light of its recent high-signature overtures to the region, including its accession to the ASEAN Treaty of Amity and Cooperation, which is a pre-requisite to the East Asia Summit membership, and its announcement to join the Trans-Pacific Strategic Economic Partnership of TPP.

In line with GIARI's focus on the promotion of Asian integration, this study aims to address two pertinent questions, namely, (i) Why is the US keen to join the TPP, and, (ii) Will US' participation in the TPP, comprising a small cluster of four countries, hasten the pace of integration in the Asia-Pacific region?

Research project
The title of this research project is "United States of Asia-Pacific".

The research finds that the regionalism movement in the Asia-Pacific, which accelerated in the late 1980s, has been caught in a Prisoner's Dilemma because any moves to expand a state's economic reach through membership in an exclusive regional grouping will challenge the security of non-participating states, causing the latter to turn towards other regional groupings to protect their own interests. Similar to the analogy of an arms race, the pursuit of economic security in Asia-Pacific has therefore led to the inevitable creation of more regional entities or expansion of existing groupings, with or without any significant improvement to the overall integration efforts. The Prisoner's Dilemma plaguing the regionalism movement is evident from the establishment of competing economic groupings, such as the ASEAN Free Trade Area which was created as a counterweight to the North American Free Trade Agreement and the European Union Common Market.

Employing the key elements of Robert Axelrod's game theoretic framework on The Evolution of Cooperation, the findings of this project suggests that US' decision to enter into the TPP negotiations is a manifestation of the Prisoner's Dilemma confronting regional cooperation in the Asia-Pacific. Yet, the "norms of reciprocity" and inclusive membership espoused by the TPP agreement have the potential to incentivize participation and, in turn, expedite the process of trade liberalization and economic integration in the region.

Achievements
Presented a paper entitled "United States of Asia-Pacific" at the Asian Studies on the Pacific Coast (ASPAC) Conference 2010 at the Portland State University as part of a panel addressing the theme on "The Role of Major Powers in Regional Cooperation and Integration in East Asia: China, the United States, and Japan" on 19 July 2010.
In the run-up to the conference in Portland, the above paper was also presented at a preparatory session in the Monterey Institute of International Studies (MIIS) on 16 July 2010.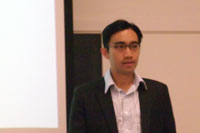 Confirmed by person in charge of project promotion