GIARI
Cultivating Talented Individuals:Support Scheme:Support Scheme for Presentation at International Conference, etc. (for student)
The First Round (Spring term of fiscal year 2010), 13 cases
2010.05.17
About
The First Round of the Support Scheme for Presentation at International Conference, etc. (Spring term of fiscal year 2010) was awarded to 18 cases. The institute issued the support scheme to doctoral students conducting fieldwork and presenting their research overseas. The 13 cases were selected out of 18 through a document screening process made open to students of Waseda University. The scheme provided JPY 200,000 to 300,000 to each recipient, totaling JPY 3 million awarded by the institute.

screening result
A preparation meeting of ASPAC Presenters were held.
2010-04-23
Six PhD students who are going to participate in
ASPAC
through a GIARI support scheme held a preparation meeting at GIAIR, with Prof. Akaha, Professor of International Policy Studies and Director of the Center for East Asian Studies at Monterey Institute of International Studies.
The six students, who are going to presenter their papers at the conference, delivered oral presentations of the summaries of the papers, and Prof. Akaha gave them a practical guidance.
They are going to visit the Monterey Institute of International Studies, Portland State University, where they are going to do the rehearsal, deliver presentations on their papaers and receive further advice.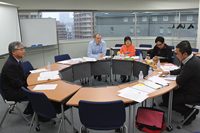 ASPAC2010
2010/06/16-17
Six PhD students participating in ASPAC through a GIARI support scheme and Prof. Akaha of Monterey Institute for International Studies held a meeting for rehearsal and preparation at the Institute (Monterey, California, USA). Each of the six students, who would present their papers at ASPAC, made an oral presentation on the respective research, followed by Prof. Akaha, as a panel leader, gave advice on the contents, presentation skill, and prospective questions and answers. They flied to the City of Portland, Oregon, USA and participated research presentations at ASPAC 2010.