GIARI
Cultivating Talented Individuals:Others
GIARI Bunko
2009.04.01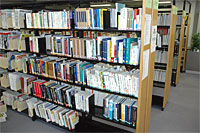 GIARI Bunko is a collection of publications offered by the Waseda University Global COE Program, Global Institute for Asian Regional Integration (GIARI). As a center of research and higher education that focuses on Asian integration, GIARI has two aims: to comprehensively study the region's integration and to develop competent professionals who will contribute to cooperation and consolidation within Asia.
Based on the GIARI Reading List (→See GIARI HP), GIARI Bunko offers must-read books related to integration in Asia. About 360 titles on the fields of politics and security, economics, society and culture, and cross-disciplinary/multi-disciplinary studies such as environmental protection and human rights are available for use in the library.
List of GIARI Bunko[614KB](Jun. 1st, 2010)
How to Borrow
Submitting application form the to GIARI Office, after reading the list of GIARI Bunko on the web and writing the reference number (ex. P-E-047) and the book title(s) on the application form. (The substitute can submit it, the from being sealed)
Going to the circulation desk on the 8th floor after GIARI officer sealing the form.
Only members and fellows of GIARI and GSAPS faculty can borrow.