Environment and Human Security
Research:Symposia
HIV/AIDS in China
Discuss together to avoid repeating the same mistakes
2008.11.16
Introduction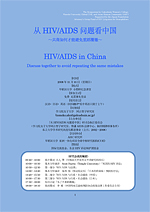 Many countries, including Japan, have experienced the enormous cost and time consumption that accompanies HIV/AIDS litigation, and the extreme burdens such litigation places on HIV positives and AIDS patients, the nation and society as a whole. In China in the 1990s, unsafe blood supply management led to the infection of many with HIV, and lawsuits in this regard have increased in recent years. However, because laws and systems are not yet fully established, some cases have merely resulted in increased social anxiety.
Currently in China, many citizens' groups and government organizations are providing legal assistance, but there is a lack of information and specialized knowledge. In particular, there exist many obstacles to the development of human resources. Japan and China are both Asian countries, and their cultures and societies share many common features. As China begins to put systems and laws into place, there is value in looking to Japan for examples. For the sake of the development of China-Japan relations, as well as that of the international community, Japan is in a position to make very significant contributions to the development of laws and legal systems in China, as well as of human resources.
Keeping this recognition in their minds, participants of the symposium discussed the necessity of the exchange of experiences and comparative studies in the area of blood supply management and HIV/AIDS-related laws and systems, and how scholars, lawyers, NGO staff members and media can collaborate to empower infected and other concerned individuals.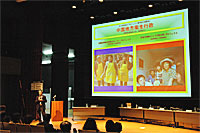 [Time]November 16, 2008 (Sun.)
[Venue]Ono Azusa Memorial Hall
[Registration]Free, not necessary
[Languages]Chinese, Japanese, English (Simultaneous translation *English only for morning)
[Hosted by] Program for Promoting Advancement of Academic Research at Private Universities of MEXT(Open:2004−2008), The Committee for the Symposium of HIV/AIDS in China
(Gakushuin Women's College, Korekata AIDS Legal Center, Yang Shaogang Lawyer's Office)
[Co-hosted by]AHC Institute, Waseda University Global COE, Global Institute for Asia Regional Integration
[Supported by]The Japan Foundation, Attorney's Group Fund of HIV Litigation for Hemophiliacs in Tokyo
Conference Papers
Proceedings
Program
Opening Remarks Satoshi Amako(Waseda University)

Introduction Tomoko Ako(Gakushuin Women's College)

Keynote Speech Scott Burris(Temple University)
"An Enabling Environment for HIV: The U.S. Experience."

Keynote Speech Ryuhei Kawada ( Member of the House of Councilors)"HIV/AIDS for Hemophiliacs in Japan"

Session 1 "HIV and Law"
Chaired by Li Dun(Chinese Foundation for Prevention of STD and
AIDS)
Panelists: Yang Shaogang (Yang Shaogang Laywer's Office)
Gang Zhiming(Friendship House of Hunan Province)
Sara Meg Davis(Asia Catalyst)
Zhou Dan(Yangshao Gang Laywer's Office)
Katsumi Ohira(Wingbeat Welfare Profect)
Yukihiko Yasuhara ( Attorney'sGroup of HIV Litigation for Hemophiliacs in Tokyo)
Shinichi Sugiyama ( Attorney's Group of HIV Litigation for Hemophiliacs in Tokyo)

Lunch

Keynote Speech"Infectious Diseases Prevention Law in Japan"
Satoru Ienishi(Member of the House of Councilors)

Session 2 "HIV and Administrative and Social Support . China"
Chaired by Tomoko Ako(Gakushuin Women's College)
Panelists: Li Dan(Koretaka AIDS Legal Center)
Meng Lin(Ark of Love The Organization of Informational Support
Network for PLWHA)
Jin Wei(The Central Party School)
Wang Keqin(China Economic Times)
Takefumi Fukuhara ( International University of Health and
Welfare)

Break

Session 3 "HIV and Administrative and Social Support . Japan"
Chaired by Akiko Kakinuma(Wingbeat Welfare Profect)
Panelists Yasushi Sawazaki(Japanese Foundation for AIDS Prevention)
Yoshihiro Takayama(Saku General Hospital)
Yuzuru Ikushima (Positive Living And Community Empowerment TOKYO)
Hiroshi Hasegawa(JaNP+)Denemon Sakuraya(Writer)
Kaku Nobuaki[(Waseda University Student Association Qoon)

Discussion "To Avoid Repeating the Same Mistakes "
Chaired by Shinichi Sugiyama Panelists All Panelists

Closing Remarks Li Dun