GIARI
Research:Symposia
Symposium on Human Security
- its history and future–toward achievement of MDGs

2010.07.15
Summary
Date: 15th July 2010 (Thursday)
Time: 13:30-17:00 *Doors open at 12:45
Venue: Okuma Auditorium, Waseda University (MAP)
Organized by Ministry of Foreign Affairs of Japan, The United Nations and Waseda University (Graduate School of Asia-Pacific Studies, Global COE Program Global Institute for Asian Integration)
Supported by Asahi Shinbun
*Japanese- English simultaneous interpretation prepared
**The pre-registraion is now closed as scheduled. We have some spare seats, please register on the reception at Okuma Auditorium, Waseda University on July 15th.
Backgroud
"Human Security" is one of the major pillars of Japanese foreign policy and the Government of Japan plays a leading role in promoting human security worldwide. Japan has been implementing the concept through bilateral assistance and the United Nations Trust Fund for Human Security, which was established by Japan's initiative. Furthermore, Japan has supported the Commission on Human Security, of which Madam Sadako Ogata is a co-chair, and has been holding the Friends of Human Security meetings for further promotion of the concept.
Stimulated by these diplomatic efforts of Japan, the documents of various international forums including those of the United Nations, G8 and ASEAN, referred to human security. In April this year the Report of UN Secretary-General on human security was published and the formal meeting on human security was held in the United Nations General Assembly for the first time in May. Various international and regional organizations and non-governmental organizations are also motivated to support projects aiming to implement the concept of human security. In addition, the World Economic Forum has also taken up human security as a concept for global governance. Given these movements, the concept of human security is getting to be widely-recognized and discussed in the international society.
It has been ten years since Japan adopted human security as one of the major pillars of Japanese foreign policy. In celebration of the 10th anniversary, this symposium invites prominent guests dedicating themselves to realizing and disseminating human security: members of the Commission on Human Security, including Madam Sadako Ogata, President of JICA; the Lord Mark Malloch-Brown, Vice-Chairman of the World Economic Forum, representatives of regional organizations, including Mr. Amr Mousa, Secretary-General of League of Arab States, and United Nations organizations. This symposium aims to look back the history of human security and assess efforts that have been made so far and to discuss the roles of regional institutes, international organizations, multilateral development banks as well as Japan for promoting human security, specifically for the achievement of the Millennium Development Goals (MDGs).
Speakers and Panellists
Mm. Sadako OGATA
Co-Chair, Commission on Human Security; President, Japan International Cooperation Agency (JICA)
Mr. Vijay NAMBIAR
Chef de Cabinet, the United Nations (To be confirmed)
The Rt. Hon. Lord Mark Malloch-Brown
Vice Chairman, the World Economic Forum
Former Administrator, UNDP
Dr. Yasushi KATSUMA
Professor, Waseda University
Ms. Frene GINWALA
Member of the Commission on Human Security, Former Speaker, the National Assembly of the Parliament, the Republic of South Africa
Ms. Hilde Frafjord Johnson
Deputy Executive Director of UNICEF(Former Minister for International Development of Norwegian government)
Mr. Rakesh Nangia
Director, Strategy and Operations, Human Development Network
Ms. Sakiko Fukuda-Parr
Professor, New School's Graduate Program
Mr. Johan CELS
Representative to Japan, UNHCR
Representative of World Bank 
Program
summary
Session 1
Session 1 aims to provide knowledge on the history and significance of human security through speeches and presentations by prominent experts, including Madam Ogata, co-chair of the Commission on Human Security, Mr. Nambiar, chef de Cabinet of the UN and Dr. Katsuma, professor of Waseda University. Q & A session will follow after speeches and presentations.
Session 2
Session 2 aims to suggest the way forward to further promote Human Security through presentations by Mr. Mousa Secretary-General of LAS followed by discussion among representatives of UN organizations and Multilateral Development Banks and panellists, including session 1 speakers.
13:30-13:45 Opening Remarks
Ms. Chinami NISHIMURA, Parliamentary Vice-Minister For Ministry of Foreign Affairs of Japan
Video message
Mr. Ban Ki-moon, Secretary-general of the United Nations
Mr.Katsuichi Uchida, Vice President of Waseda University
13:45-15:00 Session 1 Significance of Human security in Today's World
Mm. Sadako Ogata
Co-Chair, the Commission of Human Security President, Japan International Cooperation Agency
Mr. Kishore Mandhyan
Deputy Director for Political Peacekeeping, and Humanitarian Affairs, Excutive Office of The Secretary-General
The Rt. Hon. Lord Mark Malloch-Brown
Vice Chairman, the World Economic Forum
Ms. Hilde Frafjord Johnson
Deputy Executive Director of UNICEF
Dr. Yasushi KATSUMA
Professor, Waseda University
Human Security: Any Value Added to the Research Community?
*Summary (ppt)[3877KB]
14:30-15:00 Q & A
----------------------------------- 15:00-15:15 Break -----------------------------------
15:15-16:50 Session 2 Realization of Human Security - the way forward
15:15-15:25 Ms. Sakiko FUKUDA-PARR
Professor of the New School Graduate Program In International Affairs
15:25-16:20 Discussion
Mm. Sadako OGATA, Mr. Kishore Mandhyan, The Rt. Hon. Lord Mark Malloch-Brown, Ms. Sakiko FUKUDA-PARR, Mr. Johan CELS, Mr. Rakesh Nangia, Mr. Shinsuke J. SUGIYAMA, Mr. Noriyuki WAKISAKA
16:20-16:50 Q & A
16:50-17:00 Wrap-up
17:00 Closing Remarks
Photo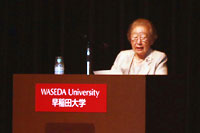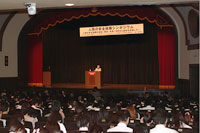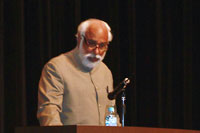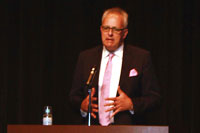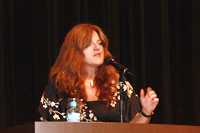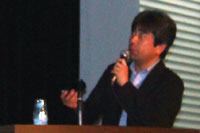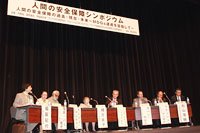 Other links